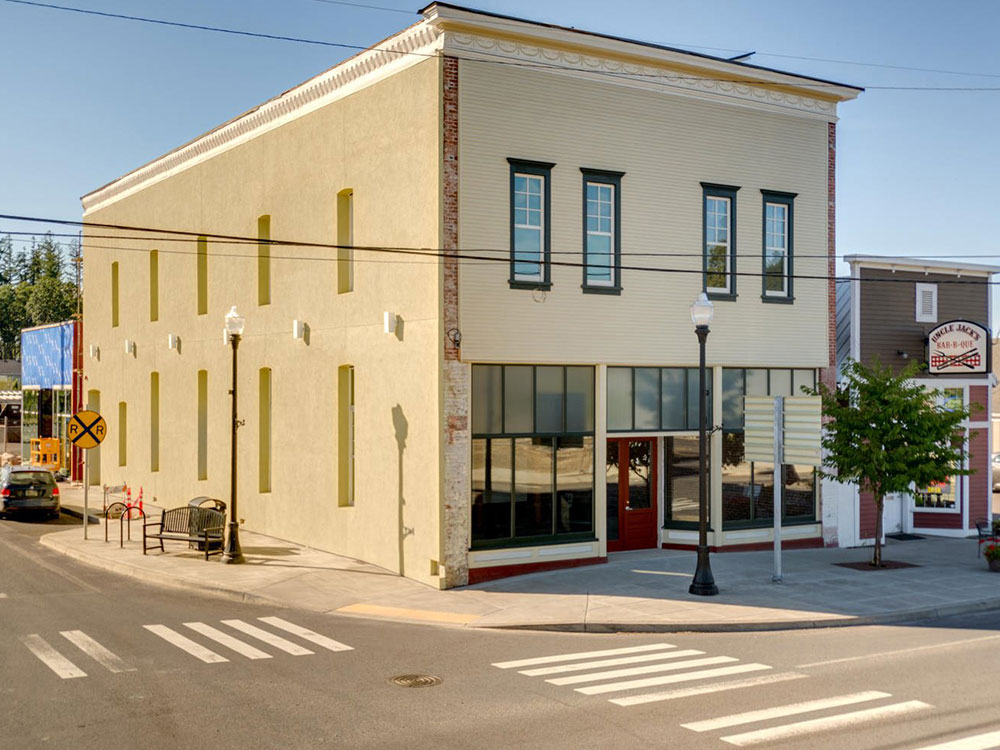 Amity Flats
Atop a beautifully-restored, historic building in downtown Amity, the Amity Flats combine local history with modern comforts and amenities at the gateway to the Eola-Amity Hills AVA. Well-equipped kitchenettes, luxurious beds and tasteful decorations nestle within exposed-brick walls and tall, open-beam ceilings. Powered by a state-of-the-art solar system on top of the building, the units range in size from a standard hotel-type room to a 2 bedroom/2 bathroom suite. A short walk or bike ride (bikes are available for rent with advance notice) will bring you to several, local wine tasting rooms (The Bramble is just downstairs; Coehlo's Winery is across the street) or to the Brigittine monastery to try their amazing chocolate. You'll want to venture into the beautiful surrounding hills to sample wines from any of the several dozen world-class wineries. Free private parking, a secure storage area for bicycles and charging station for electric vehicles are available. Optional breakfast, picnic or wine/cheese baskets may be pre-ordered.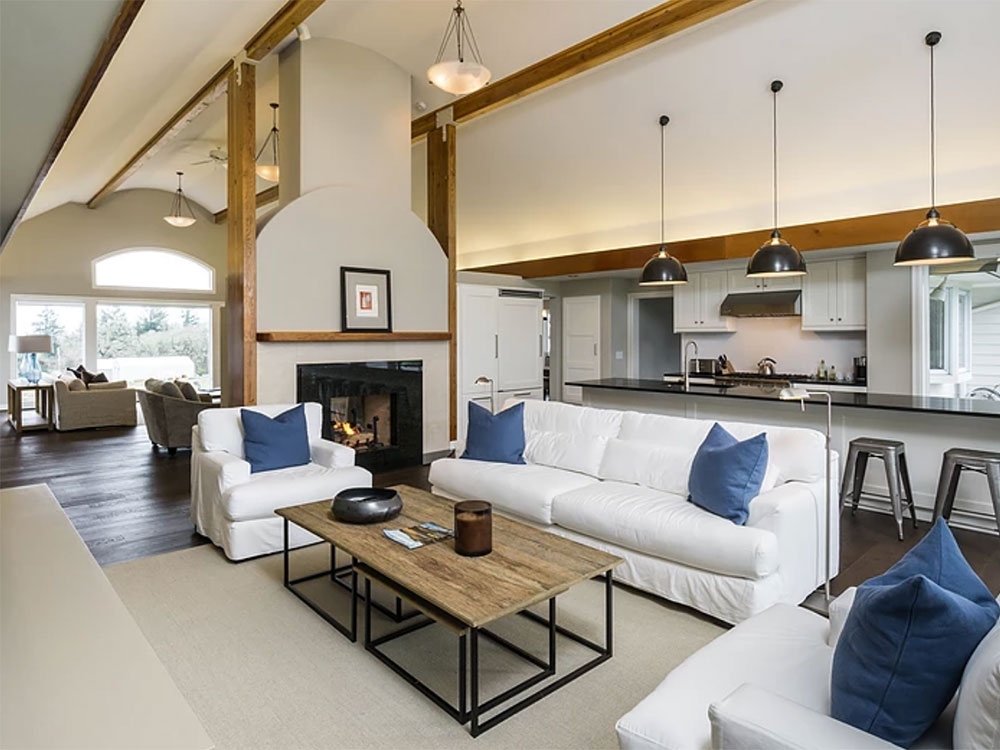 AtTheJoy – A Luxury Wine Country Retreat
Our beautiful Eola Amity Hills outdoor living space with spectacular views awaits you at this recently renovated 30-acre estate. AtTheJoy sits in the middle of the Anahata vineyard where you can enjoy panoramic views of the Van Duzer Corridor to the west and Temperance Hill to the east. Spend peaceful days around the patio basking in the sun, swimming in the pool or relaxing in cozy lounge areas. In the evening ignite the fire pit for ambiance, enjoy some wine and take a soak in the hot tub.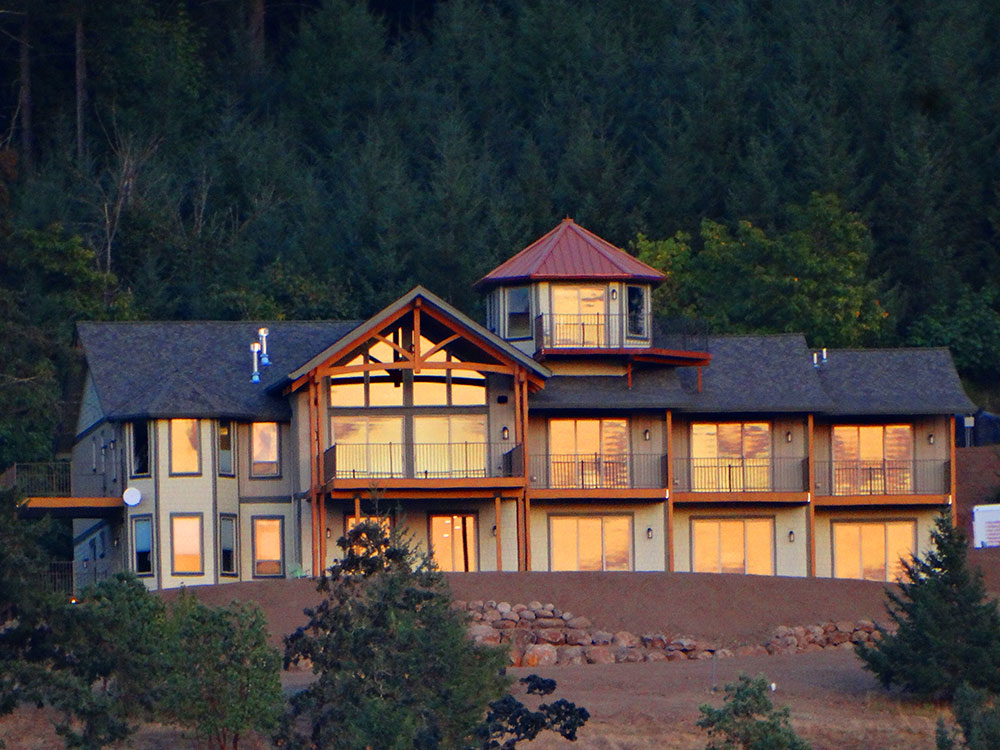 Bella Collina Bed & Breakfast
Bella Collina B&B is a premier destination inn designed from the ground up for comfort, relaxation, and serenity. Situated on a hillside with views of vineyards, farmlands, and the Coast Range, Bella Collina offers an ideal venue for a romantic getaway, friends retreat, and wine tasting adventures. A third floor Sky Loft and deck is where the sunsets are most magnificent.  Each of our luxurious guest rooms has been designed to maximize the pleasure of visiting the Willamette Valley.  Our house was constructed with comfort and privacy in mind, as shown by features such as: private decks, Double-headed, tiled showers, Heated Tile Floors, wet bar with sink, microwave, Keurig coffee maker, and fridge.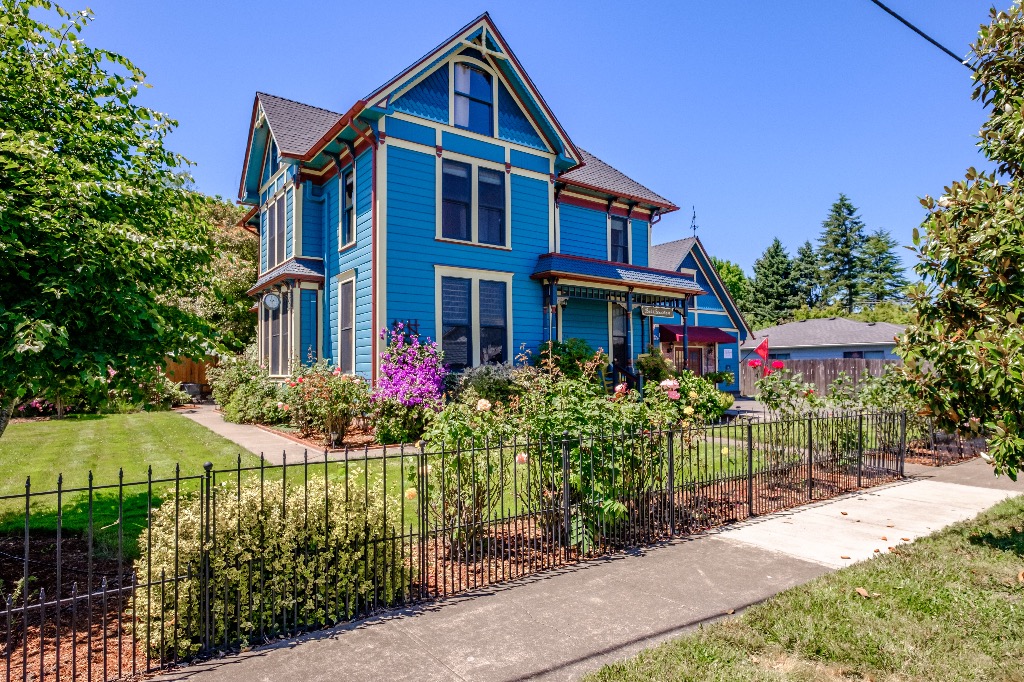 Mamere's Guesthouse
Mamere's Guesthouse is a B&B, vacation rental and event venue. Built in 1891, Mamere's has all the charm and charisma you would expect from a place on the National Historic Registry. Just a block from Western Oregon University and Monmouth's Main Street, Mamere's is a prime lodging option for visitors coming to taste all the wonderful wine options in our area. A family opened and operated business, we look forward to being your home away from home while you visit the Willamette Valley. Start your day off right with a full and delicious breakfast before you jump into a day of wine tasting!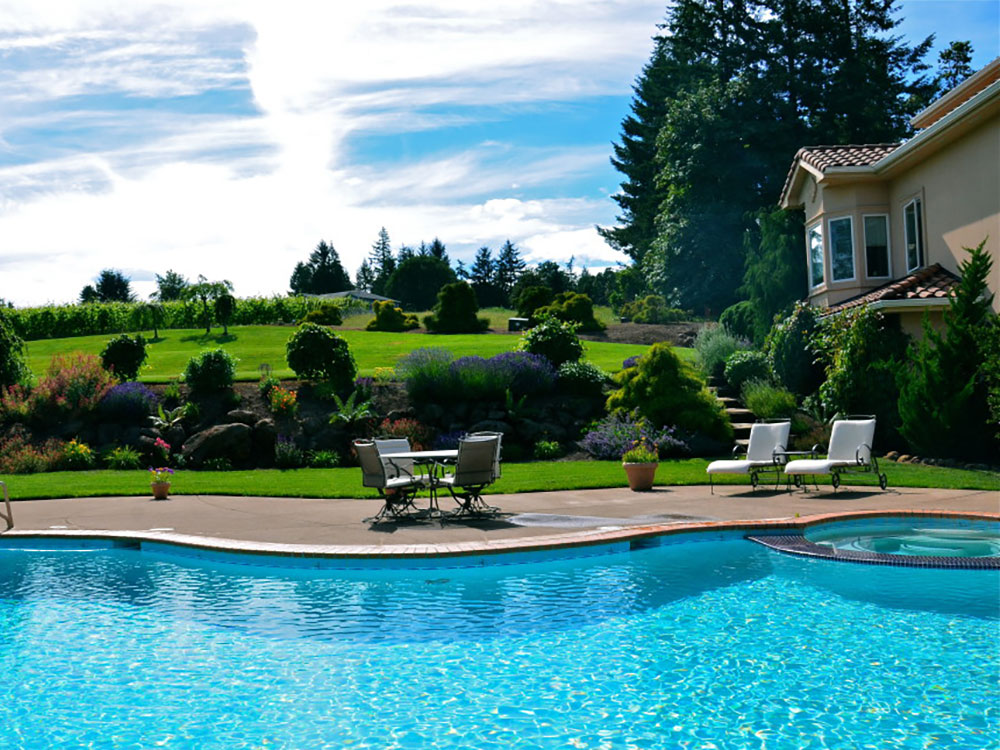 Methven Family Vineyards Estate Villa
Owners Allen and Jill Methven welcome you to our Estate Villa located on the hilltop of our 100-acre property overlooking the vineyards. We enjoy spectacular views of Mount Hood, the Cascades in the distance and a beautiful stand of old growth White Oaks.  The setting is very reminiscent of being in Tuscany with the rolling pastoral countryside and picturesque vineyards that surround the property.  Our Villa houses five spacious private suites, each with its own bath and sitting area.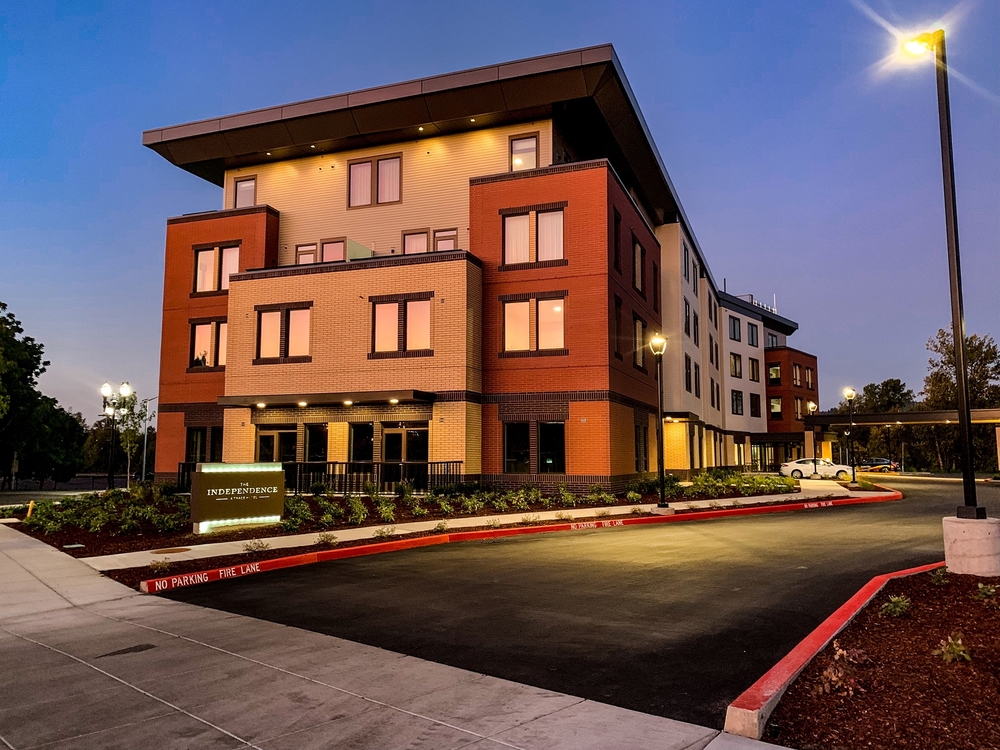 The Independence Hotel
The Indpendence Hotel is the perfect place for you to start your wine tasting adventures! Our riverfront hotel is just minutes away from all of the world-class wineries in the Eola-Amity Hills AVA. We offer 75 well-appointed guestrooms, including 14 amazing suites to choose from. Start your day off with our complimentary hot breakfast buffet, then end your day with an amzing meal at our restaurant, Territory, Or simply enjoy a favorite glass of wine by one of our cozy firepits. Visit us at theindependencehotel.com for all of our amazing hotel features, and to book your reservations!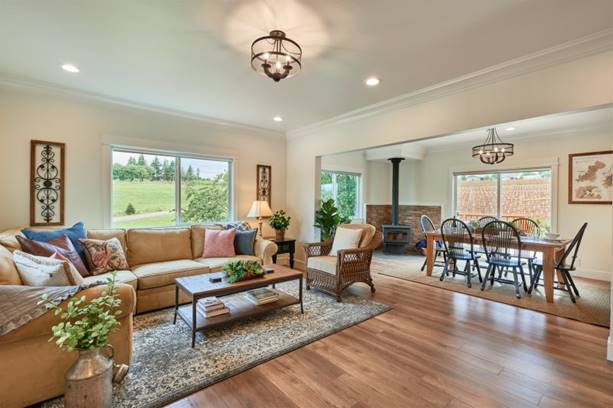 The Stiling Vineyard Farmhouse
Looking for the quintessential farmhouse to experience while in Oregon wine country while also desiring those special luxury touches? Your search is over! We invite you to stay with us at The Stiling Vineyard Farmhouse. A charming three bedroom, three bath fully renovated farmhouse set amongst the rolling vineyards of the Eola-Amity Hills.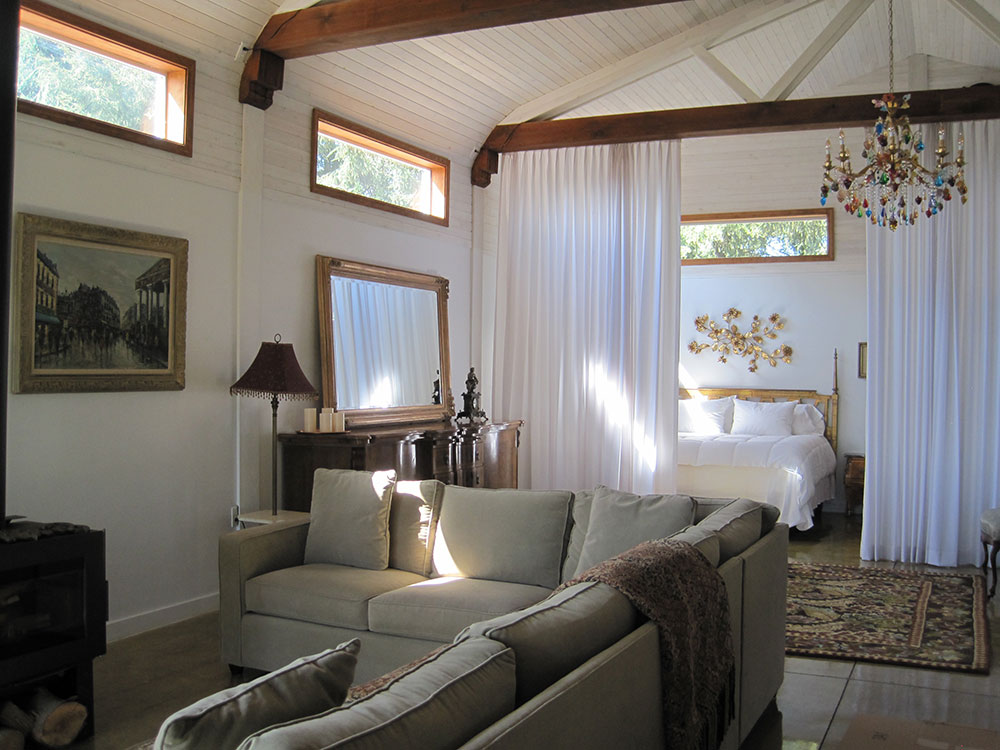 Vivid Vineyards Cottage & Loft
 Nestled on a quiet hillside in Eola-Amity Hills wine country, Vivid Vineyards Cottage & Loft offers the perfect retreat from a day of wine tasting. Choose the sumptuous Cottage or the Loft's open living concept. Both are stand alone and equipped with gourmet kitchens, fine linens and inspiring decor. Owned and managed by Bruce & Angelica Wianecki, each guest house is uniquely designed with attention to detail and luxurious comfort. Experience the delightful views while savoring our estate wine at one of our award winning guest houses.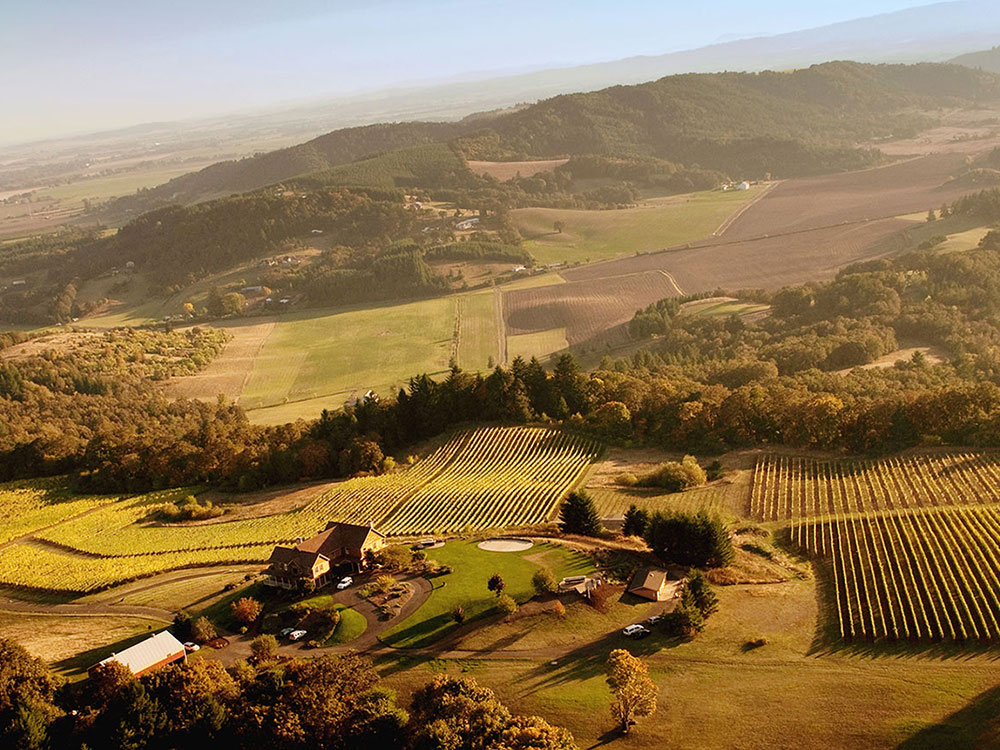 Youngberg Hill Vineyard & Inn
Youngberg Hill will take your breath away with the most beautiful views, warm luxurious Inn, personal and impeccable service and exceptional estate wines. Youngberg Hill provides the perfect location for those seeking a quiet, romantic getaway and a great base for touring Oregon wine country.